We're sorry we're out of stock, but we can let you know as soon as this product becomes available again.
Enter your details below and we'll email you once this item is back in stock.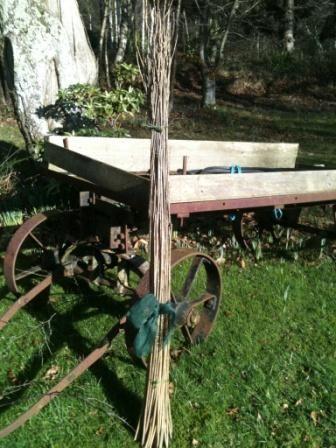 Send this product to a friend
Willow Weaving Rods - Brown £0.00
We supply small quantities of brown willow rods for weaving, these come in packs of 60 rods and each rod is between 3' and 5' long or 45 rods of 6' long. Brown willow is a natural willow that has been dried with the bark on making it good for outdoor projects. It is important that you soak your willow before use, brown willow requires soaking for around one day per foot of length which means that a 4' rod will need around 4 days in cold water. This can be done in a bath or water trough, alternatively we sell 6' or 7' foot plastic soaking bag & peg sets to help (it saves getting the bath sticky!). The Basketmakers Association also recommend a period of "mellowing" after soaking, this is achieved by wrapping your willow in damp cloth and resting for 24 hours before use.
All available couriers are now charging extra for long length parcels It is the same for 1 item as for 10 so make sure that you order all that you need in one go to save postage!