We're sorry we're out of stock, but we can let you know as soon as this product becomes available again.
Enter your details below and we'll email you once this item is back in stock.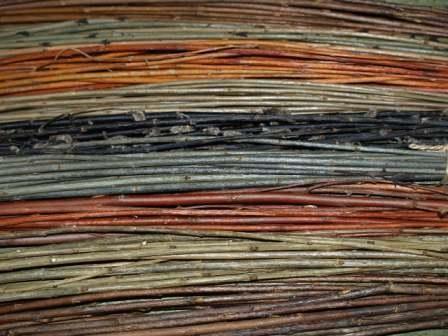 Send this product to a friend
Willow weaving rods, dried - natural colours £0.00
These beautiful willow rods are hand cut and dried naturally with their bark on to ensure that they retain the best possible colour. Our collection features a host of colours from greens, oranges, reds, browns, mahogany, purple and black. Each bundle contains a range of different contrasting colours and can be purchased in a choice of 3 lengths. You can have 1-2' in length with 150 rods per bundle, 2-3' in length with 100 rods per bundle or you can have longer at 3-5' tall with 60 rods per bundle. These beautiful colours are completely natural and ideal for creating all sorts of willow sculptures and objects. We leave the bark on to retain the colour so these rods will need to be soaked well before use, we suggest about 1 day of soaking for each foot of length. 
All available couriers are now charging extra for long length parcels. It is the same to send one as to send multiple so make sure you order all that you want at the same time to save postage!