Willow Weaving Rods - Freshly harvested test
We're sorry we're out of stock, but we can let you know as soon as this product becomes available again.
Enter your details below and we'll email you once this item is back in stock.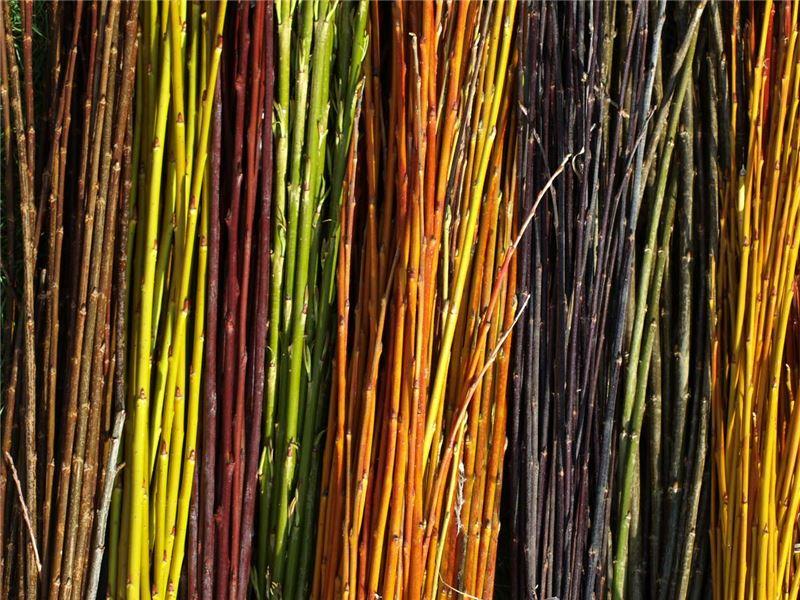 Send this product to a friend
Willow Weaving Rods - Freshly harvested test £0.00
We grow these beautiful willow rods here on our small holding in Dorset and harvest them, by hand, during the winter whilst the willow is dormant. For a short time each year we offer our customers the chance to buy them "green", in other words fresh from the fields as well as in the usual dried bundle.
Our collection features a host of colours from greens, oranges, reds, browns, to yellow, mahogany, purple and black. Each bundle contains a minimum of 4 assorted colours. You can choose from three lengths, 1-2' very fine rods, 150 per bundle (ideal for Christmas tree decorations and small work), 2-3' with 100 rods per bundle or our longer rods at 3-5' with 60 rods per bundle. These beautiful colours are completely natural and ideal for creating all sorts of willow sculptures and objects.
Because this willow is fresh it can be woven straight away, without soaking, and will keep well for about 4 weeks if stored outdoors. We find that the colours tend to keep better with un-peeled fresh willow rather than dried and soaked, however, as it dries out the willow will shrink and can make close woven objects, like baskets, loose if you are not careful.
If you don't use it all before it starts to dry then don't worry. Allow the willow to dry out fully by storing it inside in a well ventilated area. When you want to use it again then soak it at any time over the next year or so when you are ready. As a rule of thumb, once you have dried it, the willow will need one day of soaking for every foot of length so a 4' rod will need about 4 days.
Have a look at me using the 1-2' rods to make Christmas tree decorations on this video